Solana fell to as low as $8 after the collapse of FTX. It's now up over 80% in the last 30 days. What gives?
Solana rallied over 24% during the past 24 hours, hitting $45 at its peak. More impressive: It's up nearly 80% in the past 30 days.
On the face of it, analysts say we're seeing a classic short squeeze. But driving that is a narrative that basically says that Solana is not only as good as Ethereum—it promises to replace it.
For the longest time, SOL holders were derided as "Soylana Manlets." The network was especially hard hit by the FTX debacle because FTX and Solana were heavily invested in each other. FTX invested in both Solana and projects built on top of it. For example, together with the Solana Foundation, FTX co-created Serum, a now defunct 

DeFi

 protocol which, in its heyday, was the backbone of the Solana DeFi ecosystem.
The Solana Foundation also holds several million dollars worth of FTX common stock and FTT tokens. This means that when FTX went down, Solana suffered both from the size of its treasury shrinking, as well as the fact that the SOL that FTX held has now been passed on to liquidators.
But thanks to growing developer support—its developer base grew over 40% year over year— and a growing cadre of Solana true believers refused to die. These days, the Solana vs Ethereum debate has become one of the loudest conversations on Crypto X/Crypto Twitter.
In essence, Solana's advocates say the 

proof-of-stake

 blockchain's novel technology is faster, more scalable, and cheaper to use than the Ethereum 

blockchain

. (Here's a fuller explanation of the network's underpinnings vis a vis Ethereum's.)
ETH/BTC vs SOL/BTC
Bitcoin is the market leader in crypto, and because of that, traders often examine the price of coins against the value of BTC, instead of against the value of the dollar—the reasoning being that, if you can't outperform BTC, you might as well leave your money in BTC.
Lately, the price action on SOL/BTC has been far more attractive than that of ETH/BTC. In fact, many have called attention to how weak ETH looks when charted against BTC.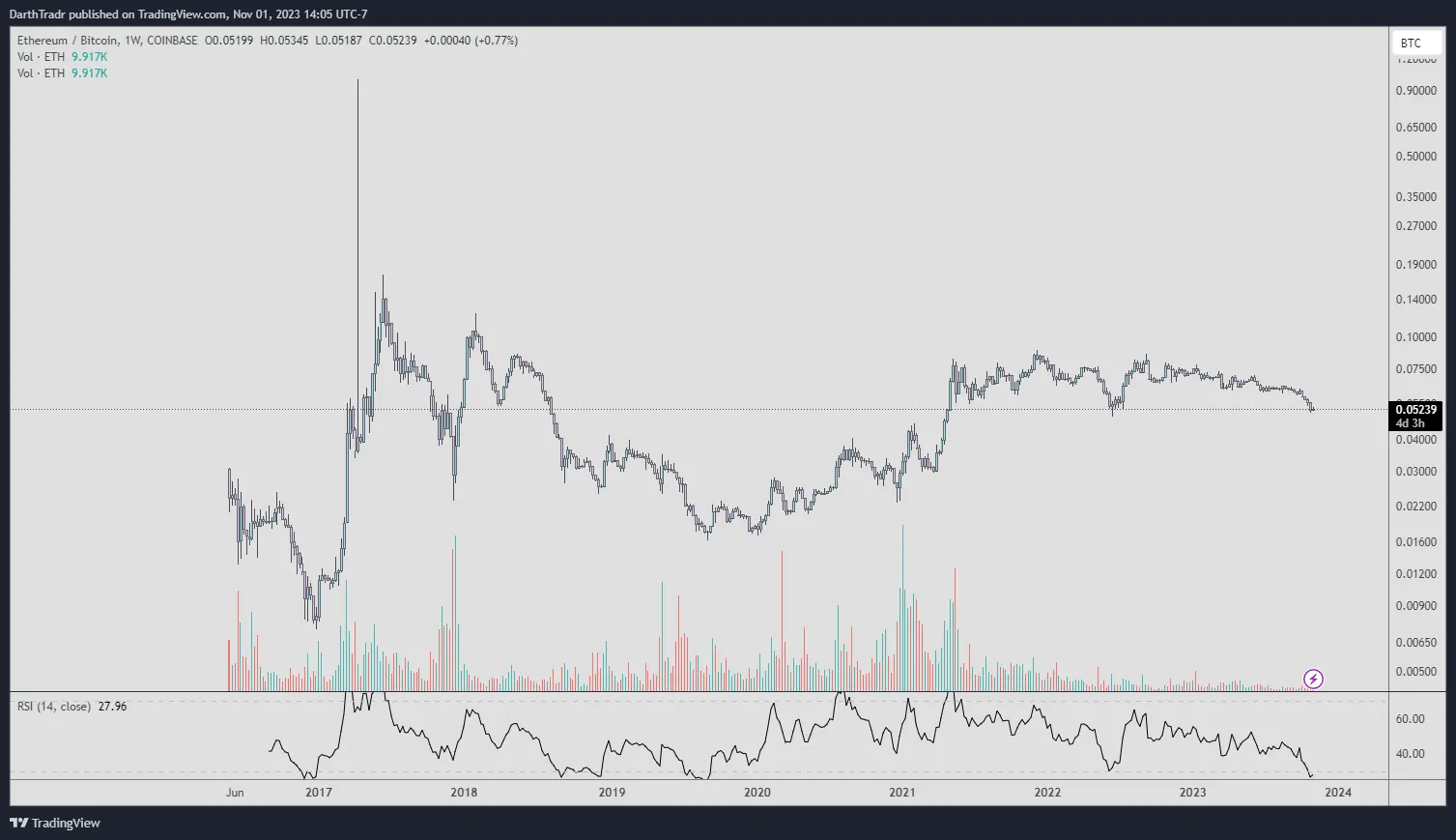 ETH/BTC chart. Image: TradingView
Traders and speculators are also looking at Ethereum's past as a potential hint to the future of Solana, because of the similarity between the narratives of ETH's past, and SOL's present.
From April 2020 to Nov 2021, the price of Ethereum went from ~$100 to ~$4700. This came after ETH experienced its first bear cycle—a time during which many people made claims that ETH would disappear much like most of the 

ICOs

 of its time.
They were wrong. Developers flocked to ETH to launch tokens and protocols, keeping attention and volume on it throughout the bear. ETH came back stronger than ever and was one of the top performers of the 2020-2021 bull market.
Now, Solana is seeing a similar narrative. It had very close ties to FTX, so after the exchange's collapse, many believed that Solana would never recover. Its showcase NFT project, DeGods, even left Solana for the Ethereum network.
Yet despite this, developers continued to build and deploy products on Solana—and its resilience caught the attention of investors as a potential short squeeze.
"All the ingredients were there for a huge rip higher," explained Patrick Felder, founder & CIO at Prismatic Capital, who mostly invests in ETH but has increasingly been putting money into SOL.  "After the FTX liquidators released their timeline for selling assets, everyone was either actively shorting SOL, or talking about shorting SOL."
All those shorts created an imbalance that's being exploited by the SOL true believers, he said. "In terms of positioning, things got way offsides, way too quickly. Solana has a diehard community so there are many people accumulating for the next cycle. It's a classic short squeeze setup."
The Solana developer community
Especially critical to Solana's resistance to the short sellers is its ardent developer community, which not only didn't defect post-FTX, it grew. The number of developers on Solana actually surged by 83%, at least according to RockwayX, a European VC firm that invested in Solana. Even Ethereum-cofounder Vitalik Buterin publicly showed support for the developer community.
The number of developers working on a layer-1 blockchain is a critical metric. In crypto you don't pay developers to build on your blockchain, they have to choose to do it—and take a risk by learning a blockchain-specific language when they don't know if the blockchain itself will last.
According to Electric Capitals Developer Report, Solana currently has nearly 1,000 full time developers; by contrast, Ethereum has nearly 6,000.
Likewise, Solana's market cap is only 8% of Ethereum's market cap, so it has a considerable way to go to make a more durable argument for its long-term success. And despite the short squeeze, it's not out of the FTX woods yet. It still needs to deal with the liquidation of FTX's assets. The FTX estate currently holds $120 million worth of SOL, and will undoubtedly liquidate as the company continues to unwind.
But the Solana bulls say that once that overhang is dealt with, it's up only for Solana.
Link: https://decrypt.co/204048/solana-rally-price-why
Source: https://decrypt.co