Bloomberg Intelligence senior macro strategist Mike McGlone says Bitcoin (BTC) could be staring down the barrel of a 60% price plunge.
McGlone says the key indicator for BTC is that liquidity remains negative and global rates continue to rise "despite recession signals."
The analyst still believes the US will endure a recession by the end of 2023. He notes that Bitcoin's pivotal resistance is the $30,000 level, and he says the top crypto asset has "risks tilted toward $10,000."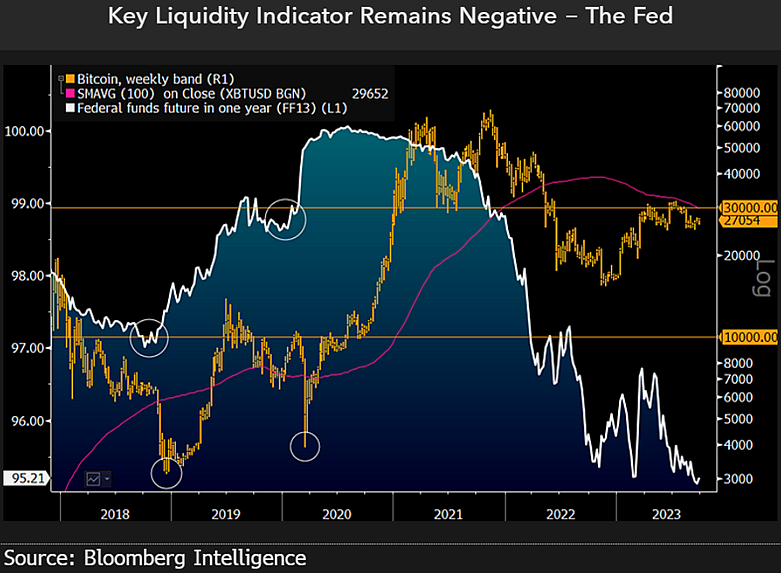 McGlone also says the biggest risk for the crypto sector overall would be pressure from a stock-market drawdown related to a recession.
"Crypto weakness in 3Q (third quarter) may be a recovery blip or a recession leaning. Our bias is the latter, as almost all risk assets gained in 2023 and rolled over into the quarter. Most central banks are still tightening despite contraction signs in the US and Europe, and the property crisis in China, with deflationary implications.
The Bloomberg Galaxy Crypto Index's (BGCI) relative underperformance may reflect fact changes for an asset class raised on zero interest rates. Spiking US Treasury yields in 1987 topped the week before the crash, while crude's peak was in July 2008. We see parallels. Bitcoin swoons have preceded Federal Reserve pivots, which may underscore the crypto's leading indicator attributes and what might be needed to revive liquidity."
Link: https://dailyhodl.com/2023/10/05/bitcoin-could-plunge-by-over-60-as-one-massive-risk-looms-according-to-bloomberg-analyst-mike-mcglone/
Source: https://dailyhodl.com