A widely followed analyst believes that Bitcoin's (BTC) latest correction is setting up the crypto king for a parabolic surge.
Pseudonymous analyst Credible Crypto tells his 340,800 Twitter followers that Bitcoin's retracement from above $30,000 is part and parcel of an uptrend that could push BTC to fresh yearly high
Te crypto strategist predicts a steep climb for Bitcoin (BTC), one that erases months of consolidation in a matter of days.
"Consolidation precedes expansion. Our last corrective structure lasted 48 days and was erased with just four days of impulsive price action.
Our current corrective structure is 83 days long so far. When we begin the next impulsive move, we probably erase three months of corrective price action within a week or so"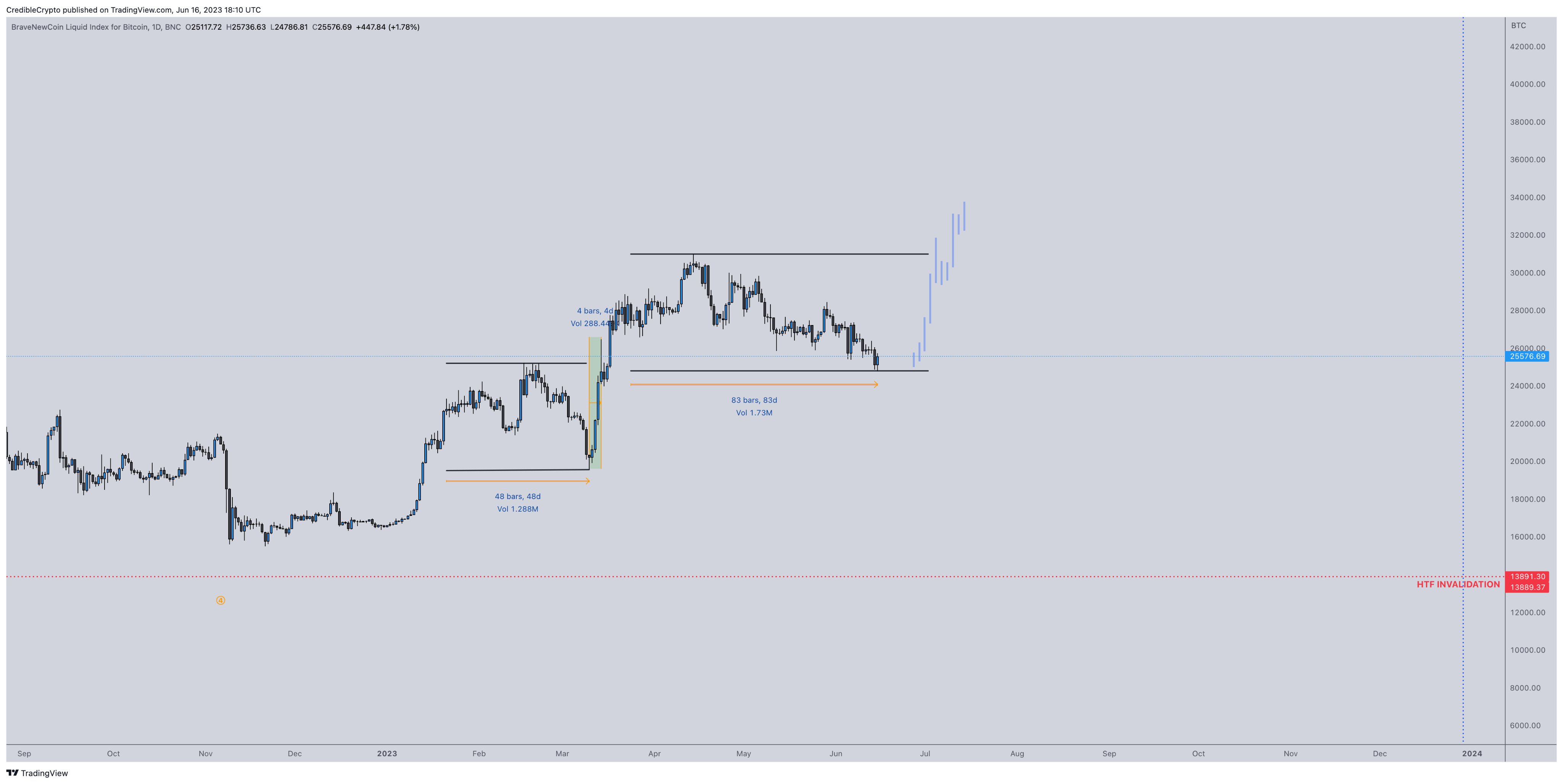 Credible Crypto is also looking at the amount of BTC held by long-term holders, or investors who have not moved their Bitcoin troves for over a year. According to the analyst, long-term BTC holders have been steadily adding to their stacks despite a multitude of cataclysmic news stories over the past year.
Credible highlights that the dwindling available BTC supply is setting up Bitcoin for a massive burst to the upside.
"~70% of all BTC in existence is being HODL'd (hold on for dear life) and has not been sold for over a year. That number has only INCREASED through 3AC (Three Arrows Capital), the FTX collapse, AND recent actions against Coinbase/Binance from the SEC.
There is LESS EXCESS SUPPLY available than there has EVER BEEN in the history of Bitcoin's existence. What does this mean?
The situation with Bitcoin right now is like a kerosene-soaked rag in the middle of a forest filled with dead trees – all it will take is a single spark of demand (could be in the form of a number of positive fundamental catalysts – the reason behind the spark doesn't matter) to set that rag on fire.
And once that rag is on fire, the move-up will start. Slowly at first, then all at once – just as a forest fire starts from a single spark and soon becomes an uncontrollable blaze, obliterating anything and anyone in its way."
Link: https://dailyhodl.com/2023/06/19/crypto-strategist-predicts-parabolic-bitcoin-move-says-btc-could-catch-fire-with-single-spark/
Source: https://dailyhodl.com