Blockchain analytics platform Santiment says that deep-pocketed investors are scooping up a massive amount of one crypto asset as Bitcoin's (BTC) price hovers.
Santiment says that crypto sharks and whales are keeping a close eye on Bitcoin's price action in the range of $30,000 as they accumulate a big supply of stablecoins, including Pax Dollar (USDP) and Dai (DAI).
The accumulation of stablecoins set the wealthy digital asset investors up to possibly make large crypto purchases in the near future, according to Santiment.
"Sharks and whales are watching the $30,000 to $31,000 Bitcoin price ranging, just like the rest of traders. And it appears that they are accumulating stablecoins like USDP and DAI quite rapidly, which increases the probability of future big crypto buys."
Bitcoin is trading for $30,905 at time of writing, up 1.3% during the last 24 hours.
Santiment also says that altcoins may start to rally as investors take profits from Bitcoin and put the money into other digital assets.
The firm notices increased trading volume for alts including Polygon (MATIC) and Binance Coin (BNB).
"As trading volume fluctuates back to altcoins, two assets are seeing particularly high interest: MATIC and BNB. Bitcoin continues to tease the $31,000 level before profits are redistributed to various crypto assets. Target those under the radar."
At time of writing, MATIC is worth $0.80 while BNB is worth $251.
Santiment also says that the Network Realized Profit Loss (NRPL) indicators for both Bitcoin and the leading smart contract platform Ethereum (ETH) are flashing bullish after their price action has ranged during the past three weeks.
"With three weeks of price ranging, Bitcoin and Ethereum are in mild realized loss territory vs. price, as average traders are moving assets at slight losses. When NRPL vs. price goes negative, there is a higher likelihood future positive price movement."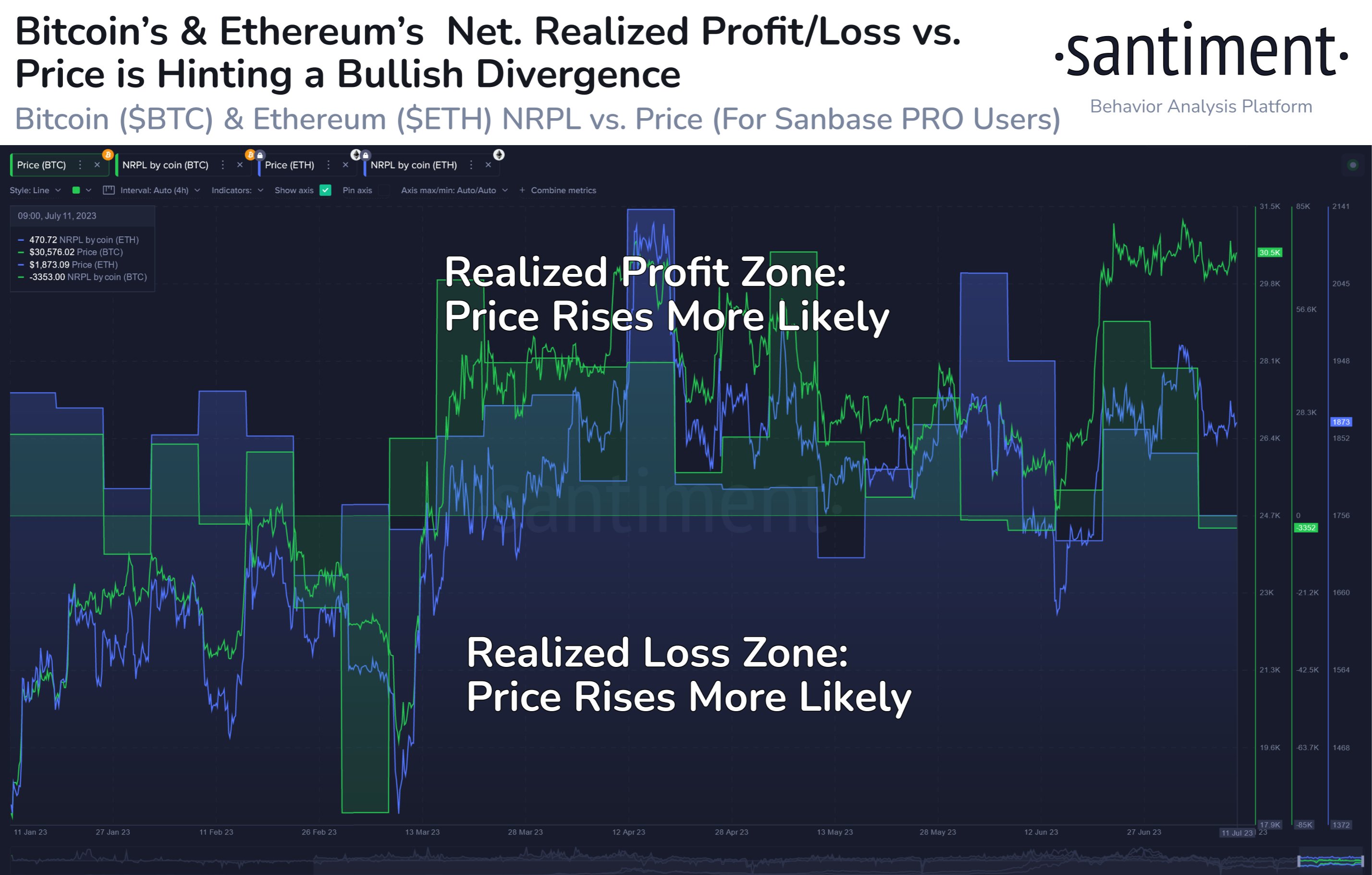 Ethereum is trading for $1,949 at time of writing, up 3.5% in the last 24 hours.
Link:https://dailyhodl.com/2023/07/13/whales-aggressively-accumulating-one-crypto-asset-class-as-bitcoin-ranges-says-santiment-heres-what-it-means/
Source: https://dailyhodl.com